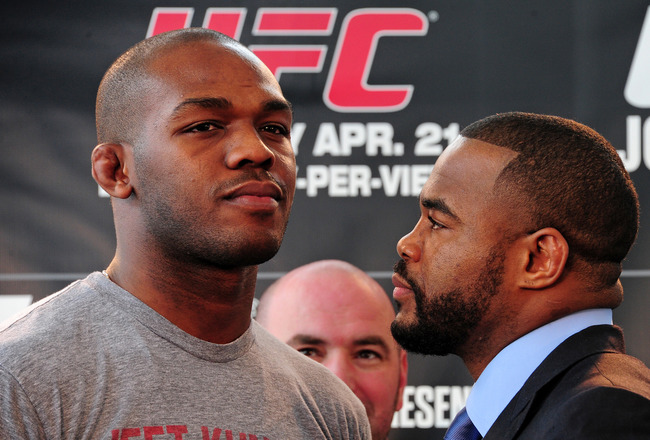 With Leather coverage tends to veer toward the faker sports (WWE, LeBron James' reaction to being touched during basketball games, busty co-eds incorrectly asking out Jeremy Lin for YouTube hits) but we're doing it big for this weekend's UFC 145 pay-per-view event।
Starting at 7PM/10PM PST/EST this Saturday, April 21, With Leather will be enlisting the help of FilmDrunk editor and UPROXX resident UFC expert Vince Mancini to live-blog the event. Not only that, but we'll have UFC vet and current UFC.com writer Daniel "Danny Boy" Downes in the house to give his professional perspective.
It's gonna be a grand time, and if you miss it I will personally come to your house and kick you in the gut until you get diverticulitis. Bookmark THIS LINK. Nothing's there yet, but that's where it'll be.
Full UFC 145 card is after the jump.
Main card

Light Heavyweight Championship bout: Jon Jones (c) vs. Rashad Evans
Welterweight bout: Rory MacDonald vs. Che Mills
Heavyweight bout: Brendan Schaub vs. Ben Rothwell
Bantamweight bout: Miguel Torres vs. Michael McDonald
Featherweight bout: Mark Hominick vs. Eddie Yagin
Lightweight bout: Mark Bocek vs. John Alessio

Preliminary card (FX)

Heavyweight bout: Travis Browne vs. Chad Griggs
Welterweight bout: Matt Brown vs. Stephen Thompson
Lightweight bout: John Makdessi vs. Anthony Njokuani
Lightweight bout: Mac Danzig vs. Efrain Escudero

Preliminary card (Facebook)

Welterweight bout: Keith Wisniewski vs. Chris Clements
Featherweight bout: Marcus Brimage vs. Maximo Blanco
It's always fun when a fight goes from an athletic competition to something more. Rivalries are what make sports so amazing to watch. Think the Pittsburgh Steelers and Baltimore Ravens going after it hard on a Sunday afternoon. Think Roy Williams and Coach K exchanging dueling glares in a North Carolina-Duke Showdown.
Think Rashad Evans and Jon Jones going toe-to-toe inside the UFC Octagon। Make no mistake—there is no love lost between these two former teammates. How did their relationship go so wrong? Bleacher Report is on the case.
UFC 145: Jones vs. Evans Live Streaming Post-Fight Press Conference Video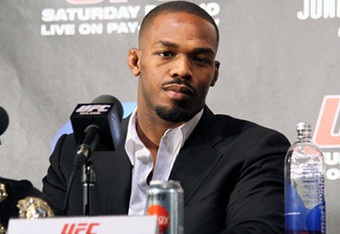 Shortly after light heavyweight champion Jon Jones and Rashad Evans square off inside the Octagon, many of the UFC 145 competitors will join UFC president Dana White at the event's post-fight press conference.
In addition to the highly-anticipated 205-pound title fight, Saturday's event at the Philips Arena in Atlanta, Ga. will also feature the return of welterweight Rory MacDonald, who will be looking to dispose of a fellow rising star in Che Mills.
Also, Brendan Schaub and Mark Hominick will try to get back on track after respective knockout losses to Antonio Rodrigo Nogueira and Chan Sung Jung.
Against the up-and-coming Michael McDonald, Miguel Torres will return to the Octagon for the first time since his brief release from the UFC for poor conduct on Twitter.
Additionally, surprising Strikeforce heavyweight Chad Griggs will make his UFC debut against the rising Travis Browne.
A live streaming feed of the post-fight press conference will be available on the below video player not long after UFC 145 comes to an end.
ATLANTA -- Light-heavyweight champion Jon Jones and No. 1 contender Rashad Evans both made weight on Friday for their main event fight at UFC 145.
And maybe all that steam between them isn't completely gone after all.
It had appeared this week the feelings of disdain between the former teammates-turned rivals had grown stale, mostly because of the amount of interviews each have given in the past year discussing their past.
All those feelings apparently have returned with the fight just one day away. The two met in a heated staredown after making weight, revving up the crowd in attendance at Fox Theatre and forcing UFC matchmaker Joe Silva to separate them.
The Atlanta crowd booed Jones more heavily than he likely has experienced in his career. The reaction didn't seem to phase the champ, though, who was accompanied to the stage by brother and Baltimore Ravens defensive lineman, Arthur Jones.
Jones (15-1) came in right at the 205-pound limit; Evans (17-1-1) weighed 204.
All fighters set to compete on Saturday's card made weight with the exception of lightweight John Makdessi, who weighed 158 pounds. He'll forfeit 20 percent of his fight purse to opponent Anthony Njokuani for missing weight by two pounds.
Welterweight prospect Rory MacDonald, 22, came in at 169.5 pounds for his co-main event appearance against Che Mills, who weighed 170 pounds.